A large, writhing faux-fur sculpture rising as though directly out of a surrealist's vision is not what one expects on entering a house. Yet "Les cousins" ("The Cousins"), 1970, by Dorothea Tanning, placed in the foyer of my new home, came to signify that time and place for me.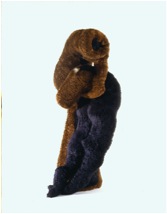 "Les cousins" ("The Cousins"), 1970 by Dorothea Tanning. Photo: The Menil Collection, Houston
It was New York, 1980. The music was "Call Me by Blondie," "Another Brick In the Wall," "Magic" by Olivia Newton-John, and "Rock With You," by Michael Jackson. The Jazz Singer, Fame and Raging Bull were playing in movie theaters. "The Factory" – Andy Warhol's iconic studio – was in full swing and the elusive doorman Marc Benecke held the patrons of Studio 54 in the 700 person range.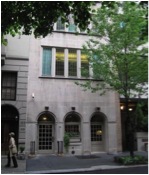 Dominique de Menil's NYC townhouse today. Photo: S. D. Booth.
I stood in the foyer of the 5-story townhouse of Dominique de Menil — the French born Houston based arts patron and advocate for humanitarian causes — where I was to live for the next two years. Some sixty years my senior, this extraordinary person was also my patron and friend.
It was a journey that I began as an undergraduate art history student at Rice University in Houston. I needed to take a work/study job, and met with Mrs. de Menil, who was offering a position for just such a student. After a few introductory questions, she leaned forward and asked, "Would you do anything I need you to do?" When I said, "Probably, but could you give me an example?" she replied with a fixed stare, "Well, if the toilet broke, what would you do?" I nervously answered, "I would first turn off the water … if I could … and then find a way to clean up the mess." Dominique smiled and asked me when I could begin.
Perhaps it was my year of traveling around Europe in a VW Van or my background as a "can-do" Texan that got me the job, but Mrs. de Menil threw me into the deep end of working with her art collection. My first task was to transcribe her late husband's notes into an archival record. It was a wonderful learning experience and I had the great opportunity to work in her Houston home, sitting at the personal desk of John de Menil.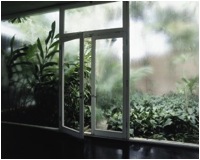 Luisa Lambri – "Untitled" (Menil House, #01), 2009. The view from John de Menil's desk. Photo: S. D. Booth
On graduating from Rice in 1978, I moved to Paris as a research assistant for an art historian that I had met through Dominique. It was there that I studied further and began my career in art conservation. Once again, Mrs. de Menil was very encouraging and after an internship at the Kimbell Art Museum in Fort Worth, and my subsequent acceptance to the Institute of Fine Arts (IFA), Mrs. D — my nickname for Dominique — insisted that I live at her home in New York so that I would not accumulate so much debt. It was one of the ways in which she helped me out in life.
So there I was at my new digs — located only a few blocks from the IFA at East 73rd Street and Lexington. My living quarters were a small basement studio that opened onto an outdoor Max Ernst sculpture garden. However, with access to the house I felt a part of the household of Mrs. D, Jacqueline, her French housekeeper, Gladys or "Gaga," who had worked for the family for 30 years, and a surprisingly garrulous French-speaking parrot named Cacaloo. A Victor Brauner painting was installed above my bed and among many other riches a bright yellow Mark Rothko painting greeted me on entering the dining room.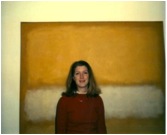 The author in front of the de Menils' Mark Rothko, "No. 10," 1957. Photo: S. D. Booth.
It was an eclectic environment, as Mrs. D collected many unusual and refined objects. She particularly loved the Surrealists and as for me, I found I was living in a Surrealist landscape — spending valuable moments with the indomitable Dominique, meeting great art historians, writers and curators like Walter Hopps, artists James Turrell (working as his assistant on his "Skyspace" at PS1), and Andy Warhol — at the same time as being absorbed in my studies at IFA. It was a heady mixture of culture, art and ideas that greatly enhanced my educational experience not to mention consciously and unconsciously liberating my imagination.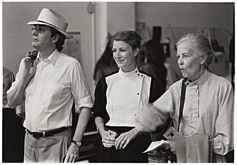 Walter Hopps, Suzanne Deal Booth and Dominique de Menil. Photo: S. D. Booth.
New York will always be a part of my DNA, from the intellectual and demanding courses at IFA, to gallery openings and art functions ranging from performance-séances to Whirling Dervishes and up 'til dawn discussions about the American landscape tradition and its influence on early Abstract Expressionism, all topics which contributed to my IFA thesis.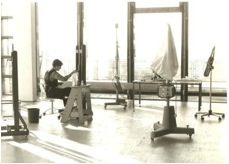 The author in the conservation studios at Centre Pompidou, Paris 1983. Photo: S. D. Booth.
I would go on to live in many cities. In Paris, doing an internship in paintings conservation at Centre Georges Pompidou, in Los Angeles at the Getty Conservation Institute, and as a newlywed and mother and the founder of Friends of Heritage Preservation on a year's "sabbatical" in Rome with my family — but New York and that improbable and extraordinary house on East 73rd Street remains a memory and connection which continues to inform my life, my choices and my work as an art conservation activist.